Date: 2021.01.01
-
2022.12.31
Leofoo Village Theme Park Package
#Accommodation Offers
Complimentary Leofoo Village Theme Park tickets for a perfect family holiday.
Rates:
Weekdays from NT$6,100 per night / Weekends and holidays from NT$7,100 per night
* Actual rates vary with room type

Promotional period:
2021/01/01-2021/12/30
* Not available during Chinese New Year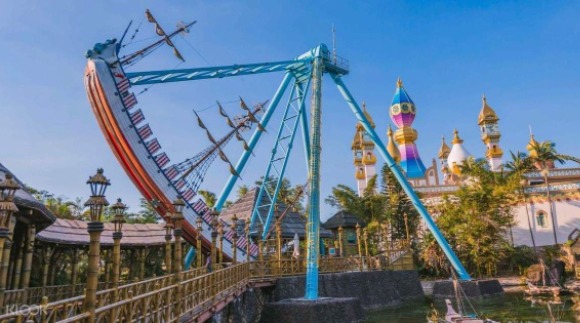 ---
Package content:
1. Includes breakfast and Leofoo Village Theme Park tickets for adults; two tickets for Double Room, three tickets for Triple Room, four tickets for Family Quad.
2. Breakfast is provided by Hit Western Restaurant.
3. Complimentary tickets are for adults only. For kids of age of 12 and under, tickets must be purchased separately at the park. Kids with height of 100 cm and under are free of charge and must be accompanied by adults.
4. Optional: upgrade to joint tickets of Leofoo Village Theme Park and Water Park: +NT$100 per person. Water Park is open from June to September. Please purchase at the park.
5. Extra guests will be charged according to the standard pricing (including breakfast and one set of amenities; not including Leofoo Village Theme Park ticket).
6. Free use of all hotel facilities during your stay.
7. One free parking space per room per night.
8. Free shuttle services are available between Fame Hall Garden Hotel and (1) Brother Hotel Taipei as well as (2) Taoyuan HSR station. See "Transportation" for more information.
Please note:
1. Weekdays are defined as Sunday to Thursday. Weekends and holidays are defined as Friday, Saturday, national holidays, and the day before public holidays. Please check the hotel notices for weekday and holiday dates.
2. This package price is only applicable to general individual bookings, and is not applicable to groups.
3. The above promotional price may not be used in combination with any other special offers.
4. Unused contents cannot be extended to be used next time or redeemed for cash.
5. For other details not covered herein, the onsite regulations of the hotel will apply, and the hotel reserves the right of final interpretation of the promotions.
6. If you have any questions, please call (03)433-9090.

Leofoo Village Theme Park:https://www.leofoovillage.com.tw/