Hit Western Restaurant & Hit Bar
Western fine dining and Chinese hot fries are both available at Hit Western Restaurant. As you take a bite of the food, every taste hits like a surprise.
LOCATION Hotel 1F
SEATS 190 Indoor seats(2 VIP rooms with a total of 20-36 seats);62 Outdoor seats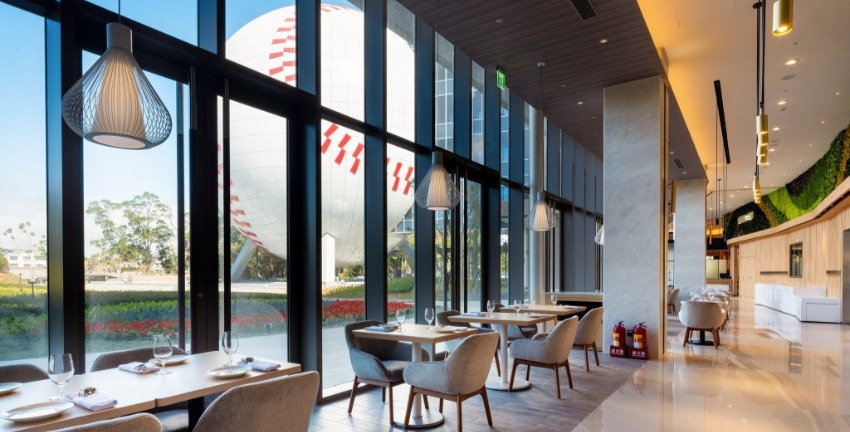 Breakfast
06:30 - 11:00
Lunch
12:00 - 14:30
Afternoon Tea
14:30 - 17:00
Dinner
17:00 - 22:00
Late-Night
22:00 - 02:00
PRIVATE ROOMS
Type
Capacities
Minimum spend
Mergeable or not
Third Base
36
Afternoon Tea NT$30,000
Lunch and Dinner NT$36,000
No
Second Base
24
Afternoon Tea NT$20,000
Lunch and Dinner NT$24,000
No
Please note
1. Breakfast: Served between 06:30-11:00.
2. Minimum spend:
- Weekdays: A meal or beverage per person. 12y and under: NT$80 per person.
- Holidays: NT$250 per person. 12y and under: NT$150 per person.
* Items from Hotel Store and Cake Shop are not included. 10% service charge will apply if you bring in the items from Hotel Store and Cake Shop.
3. Alcoholic beverages brought by guests will be charged corkage, as below: Beer NT$30, calculated per bottle/can. Red and white wine NT$300, calculated per bottle. Spirits NT$500, calculated per bottle.
4. All outside foods are strictly prohibited inside the hotel restaurants, a charge of NT$500 per table may apply. For cakes (excluding those sold in the hotel), NT$300 may apply.
5. On holidays or during holiday seasons, breakfast will be served between 06:30-08:30 / 08:30-09:30 / 09:30-11:00. Lunch time will be from 12:00.
6. Specialty dishes are available for special holidays and events. Please inquire about the content and price by telephone.
7. All menu items are subject to change according to seasonality and availability.