Indoor Baseball Training Facility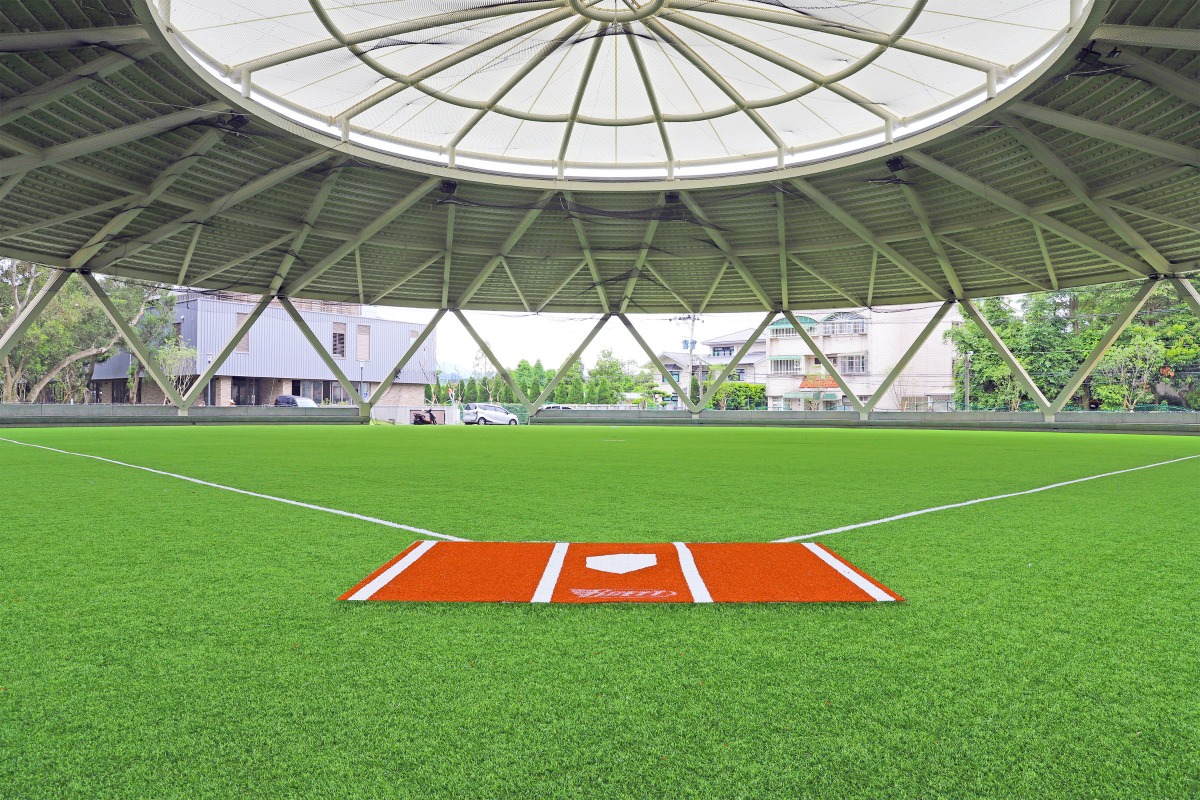 50 meters in diameter indoor court. Backstop netting and artificial grass turf are included. It is a top choice for rubber baseball games, indoor games, corporate teambuilding activities, and other similar activities.

* Contact us for details about Japanese-style baseball classes.
Charging Standards
Event Type
Half day (defined by 4 hrs)
08:00-12:00 OR 13:00-17:00
One day (defined by 8 hrs)
08:00-12:00 AND 13:00-17:00
Nighttime (3 hrs)
18:00-21:00
WEEKEND (3 hrs)
08:00-21:00
Note
Venue Cleaning Fees
General Public
NT$10,000
NT$20,000
NT$18,800
NT$18,800
Amateur baseball teams; non-profit purposes
NT$600(Half day)
NT$1,200(One day)
NT$900(Nighttime & Weekend)
Business Group
NT$16,000
NT32,000
NT$27,800
NT$27,800
Corporate team building events
NT$3,000(Half day)
NT$6,000(One day)
NT$4,500(Nighttime & Weekend)
Business Event (Event planning service included)
Contact Division of Sales for pricing
This package includes activity planning
(such as group competition) and guidance (by staff and coaches)
as well as rental of related equipment
Please note
1. Stadium specifications: 50 meters in diameter indoor court. Backstop netting and artificial grass turf are included.
2. Student groups (students of kindergartens, elementary schools, junior and senior high schools, and universities) get 20% discount. Please show your student ID card to our staff.
3. The borrowed venue must not have any installations that involve election campaign flags, banners, posters, etc. for public office candidates, nor may there be campaign rallies for political parties, public office candidates or their supporters in the venue.
4. Please do not bring pets unless the law provides otherwise, e.g.: guide dogs, hearing dogs, service dogs for physically disabled people etc.
5. Use Regulations:
(1) Please confirm the nature of the event, the scale of personnel, and the machinery/equipment you will bring to the venue when making the reservation. We reserve all rights to reject rental applications.
(2) Eating, drinking, smoking, setting off fireworks or using fire (open flames or induction cookers, etc.) are strictly prohibited in the venue.
(3) It is strictly forbidden to bring oils, chemicals, soil or sand into the stadium (please clean the sole of your shoes).
(4) It is forbidden to use hard-soled shoes, high heels, shoes with metal spikes (plastic spikes are acceptable).
(5)
It is forbidden to place heavy objects, tables and chairs, or stages without any protection equipment.
(6) It is forbidden to use large amplifiers (especially sub-woofers).
(7) Only soft baseball or safe baseball can be used in this field; hard baseball is not allowed.
(8) Repair cost of damaged artificial turf of the indoor baseball stadium is $10,000 (NT/square meters)
6. Parking fee: For in-house guests, free (1 car per room). For others, NT$200 per car / NT$100 per motorcycle, per entry.
7. For other details not covered herein, the onsite regulations of the hotel will apply, and the hotel reserves the right to modify or interpret the above contents without notice.